Tips For Vendors :
When Is The Best Time To Sell Property In Brittany?
The property market in Brittany is very active throughout the year, and properties sell well in every single month.
It can be a little quieter at the beginning of January.
It can also be a little quieter for a week or so just after the return to work and school in early September ( La rentrée ).
The property market in Brittany is at its busiest in July and August, as Brittany is a major tourist destination, and there are plenty of potential buyers on holiday here during these months.
Any time of year is therefore a good time to offer property for sale. So please do not hesitate to contact us.
Free Valuations
Should you wish Bel Air Homes to market your property for sale, the first step is to ask your local Bel Air Homes agent to visit the property to prepare a detailed description, and take a full range of photos.
We ask vendors to let us see a copy of the acte de vente from when the property was purchased if possible, and provide us with details of any works carried out at this stage, along with general information concerning the property.
Once we have all of the relevant information, and we have carried out some research, it is possible to suggest a reasonable asking price for marketing purposes, based upon the asking prices of similar properties for sale in similar locations.
Valuations are free for vendors considering marketing their properties with us.
Mandat De Vente Sans Exclusivité / Non-Exclusive Mandate
Once an asking price has been agreed, vendors need to sign a 'mandat de vente sans exclusivité', which gives Bel Air Homes the right to market the property for sale.
This mandate in non-exclusive, because we do not ask for exclusivity when selling a property, as we believe that exclusivity only limits the exposure of a property to potential buyers.
If a vendor chooses to sign an exclusive mandate with one estate agent, and then sells their property using another estate agent, the estate agent with the exclusive mandate will still be entitled to be paid an amount equal to their commission by the vendor. Vendors beware!
Marketing
Bel Air Homes is a fully French registered and insured estate agency, and a member of FNAIM ( Fédération Nationale de l'Immobilier ), the national association of estate agents.
We offer our clients a full bilingual estate agency service in English, or French.
We are not property finders, or a property portal.
Vendors benefit from our proactive marketing campaign, advice, and help, which is all absolutely FREE.
With a large advertising budget, and large overheads, we are highly motivated to sell every property in our sales portfolio, as we are only paid on results.
We have permanent advertising widely across the internet with links to our own Bel Air Homes website from online business directories, and we use many property portals and websites including FNAIM, FNAIM Bretagne, Se loger, ImmoStreet, Ouestfrance-immo, Explorimmo, Le Télégramme, Figaro immo, A Place in the Sun, France Property Shop, Zoopla, PrimeLocation, Adaptimmo, Facebook, and Twitter, magazines such as the Central Brittany Journal, Voyage, and Le Mini'mag, plus the Connexion newspaper, to give the maximum exposure to vendors' properties to potential buyers.
A more complete list can be found on the links page of our website.
Local and international potential buyers searching for property in Brittany cannot miss our publicity, wherever they are in the world !
A DPE (diagnostic de performance énergétique) is required before we are permitted to advertise a property with a fixed heating system for sale. The DPE gives the estimated energy consumption (consommations énergétiques), and greenhouse gas emissions (emissions de gaz à effet de serre) for the property.
Viewings With Potential Buyers
Your Bel Air Homes agent is the best person to conduct the viewing, given that they will have the experience of selling properties, and therefore the ability to advise potential buyers.
Your Bel Air Homes agent has the support of FNAIM ( Fédération Nationale de l'Immobilier ), the national association of estate agents, and the advantage of working with other property professionals on a daily basis, who can provide specialist services where necessary.
Allowing potential buyers to view a property with your Bel Air Homes agent is the best way for them to get a sense of what it might be like to live at a property, rather than what it is like to be there as an invited guest.
To ensure the health and safety of vendors, potential buyers, and agents, the current government COVID-19 guidlines will be respected.
Bel Air Homes agents gather most of the relevant information concerning properties from vendors, and other sources, prior to marketing properties, though it can he helpful if vendors are nearby to answer any questions, but not essential.
First Impressions - Exterior
Given that a potential buyer may decide whether they like a property, or not, within the first few seconds of their arrival for a viewing, first impressions are very important.
A well maintained garden, with hedges, walls, fences, gates, driveways and paths in good order, and a house with clean windows, will add to the appeal of a property for potential buyers, and it need not be expensive to present a property at its best.
First Impressions - Interior
People like to live in light, bright, and airy properties that feel spacious.
Vendors should therefore consider removing any heavy curtains from windows that obscure natural light, and painting dark coloured walls a lighter colour to reflect light.
Clean and tidy rooms that have been decluttered, and had a lot of personal possessions removed, will allow potential buyers to see how much space is available for their lifestyle, and their own furniture and possessions.
Pets And Animals
Many potential buyers will love animals, but not all, and some may well be frightened of a barking dog that jumps up to greet them for instance.
It is therefore better if dogs are not present at a viewing, and if a property includes a field and/or outbuildings for horses and other animals, it may be better that theses animals are secured for the duration of the viewing so that potential buyers can concentrate on what they are there for.
Accepting An Offer
It is well worth remembering that once a vendor accepts an offer for their property it is binding, and they are not in a position to accept another offer, so the property is deemed to be off the market at that point.
Your Bel Air Homes agent will then prepare the dossier for the notaire, and the notaire will then draft the compromis de vente, or promesse de vente, ready for both vendor and buyer to sign. This process generally takes 2 or 3 weeks once an offer has been accepted.
Pre-Sale Diagnostics / DDT (Dossier de Diagnostic Technique)
A DPE (diagnostic de performance énergétique) is required before we are permitted to advertise a property, though there are several pre-sales diagnostics that need to be shown to buyers before any sale can progress to the next stage.
It is far better if a vendor has all of the other pre-sale diagnostics, the DDT (Dossier de Diagnostic Technique), carried out when we begin marketing a property. Some vendors choose to wait to have all of the pre-sales diagnostics carried out until they have an offer from a buyer though, as some of these diagnostics have a limited period of validity.
The notaire requires the pre-sale diagnostics before being able to prepare a compromis de vente, or promesse de vente, and as there are usually anomalies discovered on most properties, however small, it is far better to be discussing any anomalies with a potential buyer before any offer is made, rather than after, to ensure a smooth sale.
We can arrange to have these diagnostics carried out for vendors if they wish.
Works
Should a property require any repairs, or if it has development potential, it is often a good idea for vendors to obtain quotes (devis) for these works, as it can reassure potential buyers, and help them consider how much to offer for a property.
If works have already been carried out at a property by registered and insured artisans, it can be a good idea for vendors to make the invoices (factures) available during a viewing, by leaving copies on a kitchen table for example.
Capital Gains Tax On Property Sales
A vendor will only be liable for capital gains tax (plus-values immobilières) on the sale of their property if it is not their main residence, and they have made a profit, or capital gain.
The rate payable is total of 36.2%, which is made up of 19% capital gains tax (plus-values immobilières), plus 17.2% social charges (prélèvements sociaux).
There are exemptions and allowances that apply, and some costs that are deductible, such as improvements to a property by registered artisans. It is worth noting that maintenance works carried out at a property would not be deductible.
The relevant expert for capital gains tax is the local notaire, as they work closely with the local tax office, and it is the notaire who calculates the amount of capital gains tax to pay, if any, based on the circumstances of the vendor, and the invoices (factures) submitted by the vendor.
There are many free capital gains tax simulators available on the internet, including one on the Notaires de France website.
A more detailed explanation of capital gains tax in French or English is available on the same website.
Tips For Buyers :
Your Property Search
Bel Air Homes agents live in the areas in which they offer properties for sale, and therefore have good local knowledge, a good understanding of local property market conditions, and have visited every property which they have for sale in that area.
Bel Air Homes can therefore save buyers plenty of time searching for properties, and help buyers avoid wasting time viewing properties that do not meet their requirements.
Once we know a buyers search criteria, we can offer our best possible service, and suggest properties that may be of interest based on these criteria.
Location Of The Property
It is a good idea for buyers to search for property across a wide area of Brittany to have the best possible choice of properties, rather than a specific location, unless it is important to live close to a certain town for example.
It is also important for buyers to let us know if a rural, village, or town location would better suit their lifestyle, whether they require local services such as schools, or if they have any specific requirements such as not wanting close neighbours.
We are happy to describe the location of any particular property honestly and fairly, but it is our policy not to reveal the exact location of any property by giving the coordinates, cadastral reference, or address.
There are two main reasons.
Firstly, many owners ask us not to reveal the exact location of their property because;
1. They want to maintain their privacy.
2. They prefer to use the professional services of an estate agency when dealing with potential buyers.
3. They are elderly, or ill.
4. The house is a second home, and empty for long periods of time.
5. They have moved away from the area, and the house is empty.
Secondly, estate agencies that have put in a lot of hard work, and paid out a fortune in publicity, really do not like identifying the exact location of a property until the viewing, as they risk losing their commission.
Style Of The Property
Brittany has several styles of property built at diffferent periods in time for buyers to choose from, including longères built from stone, rural properties or town houses built from stone or from concrete blocks, néo-bretonne houses built from concrete blocks, and new builds.
Something to suit everyone's taste and requirements really.
Size Of The Property
The required size of a property to consider will depend on such criteria as its living space (surface habitable), and the number of bedrooms, receptions, and bathrooms needed. Buyers should also consider whether they require a loft area, a basement, or outbuildings, and very importantly how much land they would like.
Property is relatively inexpensive in Brittany, so buyers do have a wide range of options open to them.
Condition Of The Property
Properties are available in a variety of conditions, from complete renovation projects, to properties with little or nothing to do, so buyers will make their property search much easier if they decide how much work they are prepared to do, or have carried out by professionals at their new property, in advance of any viewings.
Budget
From April 1st 2017, estate agents in France, including Bel Air Homes, are required to display more information concerning their commission and fees. Where the buyer pays the fees, which is by far the most common way that property is purchased, the sales publicity must display the asking price including the fees, the percentage of fees payable including VAT (honoraires), clearly state that the fees are included, and are payable by the buyer (inclus charge acquéreur), and then show the amount before the fees have been added (hors honoraires). Where the vendor is paying the agency fees, estate agents are required to display the asking price, and clearly state that the fees are payable by the vendor ( inclus charge vendeur).
The notaire makes the payment to the estate agency for these fees from the proceeds of the sale, once the acte de vente has been signed.
Bel Air Homes has a very low rate of commission of just 2.5% (minimum 2 500 euros), while some of the high commission estate agencies may charge as much as 10% commission, and have a much higher minimum.
This is one reason why the same property can appear for sale at different asking prices on different estate agents' websites. Therefore one important thing for a buyer to consider when deciding upon the budget for a property purchase, is how much they are prepared to spend on agency commission.
There are also fees to pay to the notaire when purchasing property. These are sometimes known as notaire's fees, but the biggest proportion of this fee is a registration fee payable to the French state. Buyers should allow around 6.50% to 10.50% of the purchase price in Brittany for these fees, but typically between 7% and 8% for a family home.
There are no other costs for buyers when purchasing a property, except of course for the cost of any improvements that they may choose to make.
Viewings
Bel Air Homes agents conduct viewings with potential buyers to provide advice and guidance, and most importantly listen to the feedback from buyers to help them find their ideal property.
To ensure the health and safety of vendors, potential buyers, and agents, the current government COVID-19 guidlines will be respected.
In all cases, a minimum distance between people of one metre must be respected during viewings.
The number of people present at the property must be reduced to the strict minimum, and only 1 or 2 people should be present in a room at the same time.
Hands should be thoroughly cleaned with alcohol hand gel by everybody visiting a property upon arrival, and when leaving too.
Touching anything at a property during a viewing should be avoided.
Though face masks are not obligatory, it is advisable to wear one when viewing property. Your Bel Air Homes agent will be wearing one.
Mortgages
It is possible for potential buyers to obtain a free mortgage simulation (mortgage in principal) based on their personal financial circumstances before beginning a property search, but a formal offer will not be made in France until after a compromis de vente, or promesse de vente, has been signed.
Making An Offer
Bel Air Homes agents will negotiate the sale of the property with vendors and buyers, and can advise on the size of an offer that will likley be accepted.
Offers can be subject to certain conditions, such as the need to obtain mortgage finance for example.
Buyers should be in a position to purchase property before making an offer, as once a vendor has accepted an offer, they cannot accept another. Buyers should therefore have the funds available from the sale of a property or from savings, or have the agreement of their bank that mortgage finance will be available before making an offer on a property.
A formal mortgage agreement cannot be made by a bank until after the compromis de vente, or promesse de vente has been signed though.
It may therefore be difficult for buyers to have an offer accepted by a vendor if they need to fund the purchase with the sale of another property.
Once An Offer Has Been Accepted
Bel Air Homes agents will need to prepare a dossier for the notaires office so that they can draft a preliminary sales contract, which will be either a compromis de vente, or promesse de vente, which in effect are broadly similar.
Buyers are essentially asked to provide proof of identity and marital status at this stage.
Which type of preliminary sales contract used generally depends on which notaire is dealing with the transfer of the ownership of a property, and it is usually ready to be signed within 2 or 3 weeks of an offer being accepted, when a deposit, which is normally 10% of the selling price, is payable to the notaire.
Most notaires in Central Brittany are now using the promesse de vente though, as the advantage is that the vendors can put their properties back on the market immediately should buyers not confirm that they wish to proceed with the sale by returning the levée d'option.
The signing of the acte de vente generally follows approximately 2 months later, when the balance of the purchase price is payable to the notaire.
It is worth noting that the date for the signing of the acte de vente stated on the promesse de vente is provisional, as the acte de vente can only be signed once the notaire has all of the relevant information, and a convenient time and date for all parties has been agreed.
Bel Air Homes agents help buyers every step of the way through the buying process, providing details and explanations when required, or requested.
The Housing Market In Brittany
Some UK potential buyers may be delaying their decision to purchase property in Brittany, though it may encourage other UK potential buyers to proceed faster while the UK remains a member of the EU. UK potential buyers, and UK expat vendors, are only one part of the housing market in Brittany however, as there are French, EU citizens from other countries, and people from countries outside the EU constantly wishing to buy and sell property in this region.
The housing market in general remains very active. Plenty of properties sell all the time, but there are many more properties for sale than potential buyers, so a competitive asking price for any property is absolutely key to attract these potential buyers.
This oversupply in the market has seen property prices in Brittany fall around 30% from their peaks in 2008.
However, the selling price of properties in Brittany seem to be stable now, and even rising a little, though asking prices are still falling. This simply means that offers being accepted are now closer to asking prices.
Property in Brittany therefore offers incredible value for money, as it is very much a buyers' market, and interest rates are at a record low.
It is a great time to snap up a bargain.
---
Notre Publicité Comprend / Our Publicity Includes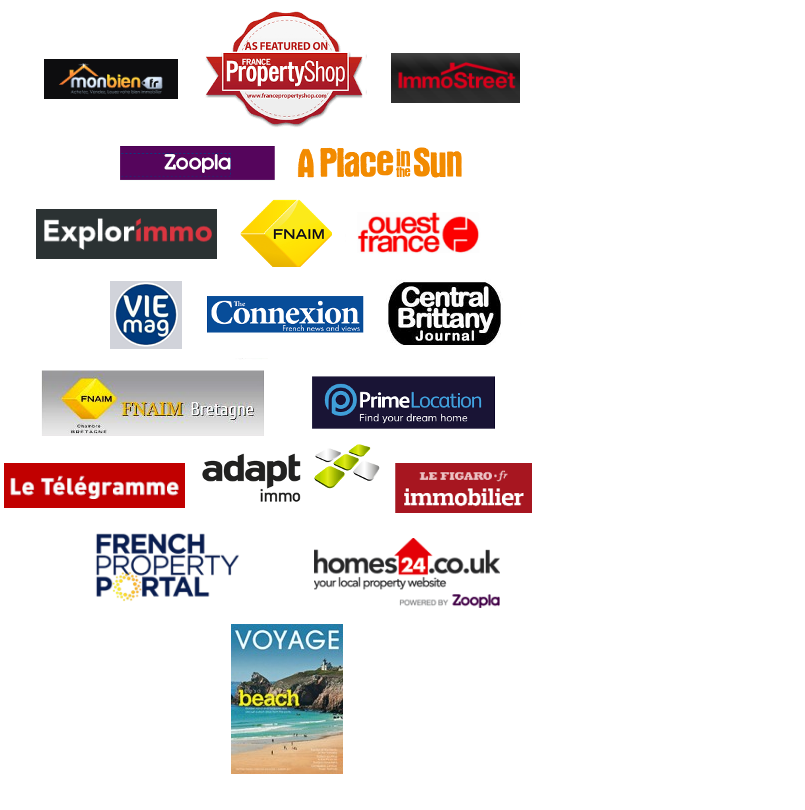 ---
Are you Searching for property to buy in Brittany France?
Do you have a property to sell in Brittany France?

Do you need our help, or do you have a question? /
Avez-vous besoin de notre aide, ou avez-vous une question ?
---
Devenez propriétaire - Pourquoi payer plus cher ?
---
---
---
---
---